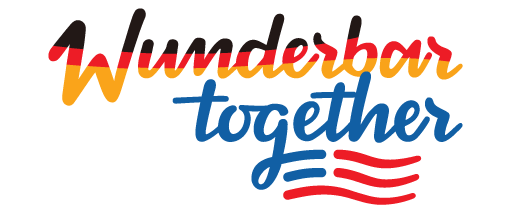 Since 2019, the ACG has organized several different projects under the auspices of Wunderbar Together USA, a comprehensive and collaborative initiative funded by the German Federal Foreign Office and implemented by the Goethe-Institut, that is meant to create opportunities for dialogue between Germans and Americans.
As part of Wunderbar Together USA 2021, the ACG will host the German-American Sister Cities Youth Forum, a virtual exchange designed to engage young civic leaders ages 14 to 21 in Germany and the U.S. in a transatlantic dialogue about issues confronting their local communities. Through a series of interactive meetings, representatives from local youth councils and youth leadership programs in five pairs of U.S.-German sister cities will discuss issues including climate change and sustainability, the need to confront racial inequality and promote diversity, and the importance of civic engagement and youth participation in their communities.
As part of Wunderbar Together USA 2020, the ACG held a number of town halls focused on local communities entitled [Virtual] Transatlantic Town Halls which brought together members of the German Bundestag as well as mayors from German-American sister cities issues such as health care infrastructure, urban development, transportation, environmental issues, digitalization and digital access, education/workforce development, social equity and cohesion, and government engagement and communication with citizens.
From October of 2018 to November 2019, the German Federal Foreign Office hosted events across the United States as part of Deutschlandjahr USA – the "Year of German-American Friendship" –  an initiative that showcases how closely Germany and the United States are linked through deep historical ties, shared values, and bold visions for the future. The campaign explored partnerships in all areas of society – ranging from business and industry to politics, education, culture, science, civil society, and sports and lifestyle. The ACG was pleased to be one of the many partners in this important initiative and engaged through a number of projects funded by the German Federal Foreign Office as part of the Deutschlandjahr USA, as well as other projects funded by other partners, which were conducted under the auspices of the Year of German-American Friendship.