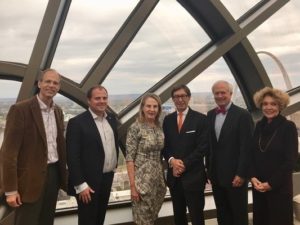 As one of the oldest Warburg Chapters, the St. Louis Chapter brings together those interested in transatlantic relations for lectures and discussions throughout the year. Since the founding of the St. Louis Chapter in 1996, it has covered various topics, ranging from foreign policy and diplomacy to business, art, literature, and even soccer.
The St. Louis Chapter works closely with universities such as Washington University and Webster, as well as nonprofit organizations such as the World Affairs Council and Missouri History Museum.
The chapter has hosted speakers such as Dr. Susanne Dröge, a Senior Fellow in the Global Issues Division at the German Institute for International and Security Affairs (SWP) Berlin; Ambassador John B. Emerson, Chairman of the ACG and former U.S. Ambassador to Germany; and Ambassador Peter Wittig, former German Ambassador to the U.K. and former Ambassador to the United States.
About the Chapter Director
Ulrike K. Schlafly
International Consultant
The Saint Louis Brewery, Inc.
schlafly@me.com
Ulrike K. Schlafly studied law at the universities of Geneva, Munich, and Cologne. She is the Founder and Director of the St. Louis Eric M. Warburg Chapter of the American Council on Germany and a member of Atlantik-Brücke in Berlin. She is the former President of The Garden Club of St. Louis, an affiliate of The Garden Club of America and currently serves on the Visiting Gardens Committee of the GCA.  She serves on the boards of Women at the Kemper Art Museum at Washington University and of the University's Women's Society.