Address global challenges by engaging in dialogue, exploring policy solutions, and exchanging best practices through discussion programs, policy conferences, and exchange programs;
Build mutual understanding by engaging decision-makers and thought leaders in Europe and the United States through discussion programs, high-level policy conferences, and other outreach activities;
Develop and cultivate the next generation of transatlanticists through intensive Young Leaders conferences, fellowships, leadership missions, and Political Salon events; and
Create and strengthen transatlantic networks, cutting across professional fields, disciplines, and backgrounds, so that Germans and Americans can work together to address today's problems and anticipate upcoming challenges.
WHAT MAKES THE ACG UNIQUE 
Building on Decades of Experience

The ACG began its work to strengthen transatlantic relations on the heels of World War II and has maintained that focus ever since. We can draw on more than 65 years of experience and our enduring close connections with influential leaders on both sides of the Atlantic.
Forging Mutual Understanding

As Germany takes an increasingly important role on the world stage, the ACG equips opinion leaders and decision-makers in a variety of fields with ideas and perspectives on important political, economic, and social developments on both sides of the Atlantic and around the world. The ACG provides a deep and nuanced understanding of Germany's role within Europe and globally.
Anticipating Tomorrow's Challenges

The ACG doesn't just address today's headlines. We anticipate future priorities on the transatlantic agenda. Our policy discussions, conferences, and fellowships began taking a close look at issues such as resource scarcity, environmental policy, sustainability, immigration, and urban policy years before they were trending on Twitter.
Addressing Global Issues Nationwide

The ACG has Eric M. Warburg Chapters across the United States so our members and the general public can have access to speakers who can address the most pressing economic, political, and social issues on the transatlantic agenda. We recognize the importance of presenting global issues on a local level, because developments around the world reverberate far beyond policymakers and business leaders in Washington and New York.
Shaping Tomorrow's Leaders

We invest in the future of the transatlantic relationship by helping the next generation of leaders in Germany and the United States learn about this indispensable partnership, exchange best practices, and build networks across the Atlantic. Our programs bring together young professionals from diverse fields to deepen their understanding about transatlantic issues while forging lasting bonds with one another.
Reaching Members and the Community at Large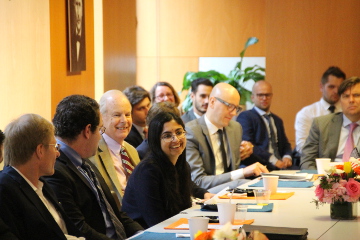 The ACG serves its members through a range of programs and activities, but also reaches across generations, sectors, and regional boundaries to inform the community at large in about important issues influencing the transatlantic partnership.
The Council's established initiatives include:
A focus on the next generation – including the ACG's annual American-German Young Leaders Conference for emerging leaders from Germany and the United States, as well as other activities that convene young professionals from Germany, the United States, and other countries to discuss common contemporary challenges;
Policy discussions with experts on complex transatlantic and overarching global issues in New York City, Washington, DC, and at the Eric M. Warburg Chapters across the United States;
Fellowships for the next generation of German and American academics, journalists, and other professionals;
Policy conferences that engage and convene policy-makers, multipliers, and leaders from government, business, academia, the military, and the media on both sides of the Atlantic;
Outreach to keep ACG members and friends informed about the myriad of issues affecting the German-American relationship and transatlantic affairs; and
Experiential opportunities through fact-finding missions that give practitioners from different fields the opportunity to engage their counterparts in a deep and meaningful exchange about common challenges.