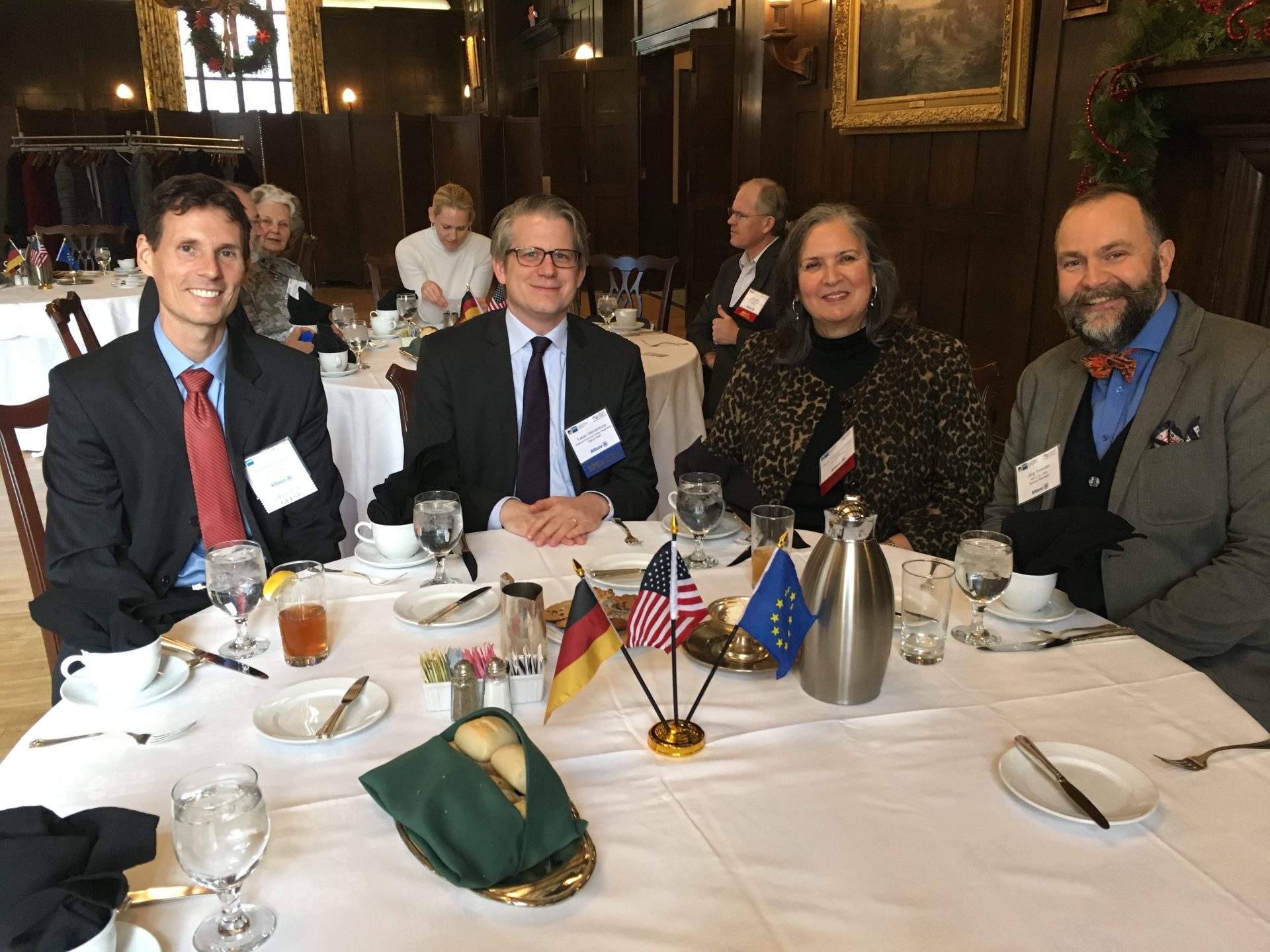 With its strong and active community of German-Americans, Minnesota offers an interested and motivated audience for the programs of the Minneapolis/St. Paul Warburg Chapter. By working in partnership with German-American organizations like the German-American Chamber of Commerce (GACC), the Germanic American Institute (GAI), the Center for German and European Studies (CGES) as well as the Minnesota Consular Corps, the Committee on Foreign Relations Minnesota, the Jewish Community Relations Council, and Global Minnesota (a World Affairs Council), the Chapter has been able to engage German-Americans and other international-minded audiences in meetings and discussions about important topics on the transatlantic agenda.
The Chapter hosts events each year covering various topics, including climate change, migration, trade and economic relations, and foreign and security policy. In recent years, the Minneapolis/St. Paul Chapter hosted discussions with Ralf Fücks, former President Heinrich-Böll-Stiftung; Prof. Dr. Birgit Glorius, Professor for Human Geography of East Central Europe at the Chemnitz University of Technology; Dr. Jan Philipp Burgard, Executive Editor at Die Welt; and Hans Kundnani, Senior Research Fellow at the Royal Institute of International Affairs in London.
About the Chapter Director
Christa Tiefenbacher-Hudson
DeepBrook Inc.
christa@deepbrook.net
On October 1, 2018, Christa retired from her position as Managing Director of TripleInk, a multilingual marketing communications agency in Minneapolis she co-founded in 1991. Going forward she will be providing international communication and consulting services to U.S. companies doing business in Germany and German companies doing business in the United States through her new company, Deep Brook LLC.
A native of Germany, Christa is a founding member of the German American Chamber of Commerce Midwest, Minnesota Chapter, and served as the Chamber's President from 2000 to 2004, as Vice President from 2010 to 2016, and is now an Honorary Director.
From March 2010 until May 2016, Christa held the post of Honorary Consul of the Federal Republic of Germany in Minneapolis, with a consular district that encompasses Minnesota, North and South Dakota and Western Wisconsin.
Since September 2016, Christa has served as the Director of the Minneapolis/St. Paul Warburg Chapter of the American Council on Germany.
On September 25, 2018, Christa was awarded the Order of Merit of the Federal Republic of Germany for her contributions to enhancing Germany's standing abroad and its relations with the United States in economic, cultural, political and social matters.