Within weeks of the realization that the Covid-19 impact would have a major impact, many observers recognized that there would be significant domestic and international implications. The simultaneous public health, economic, and social justice crises that unfolded in the United States and parts of Europe highlighted – and in some instances exacerbated – social inequities that had been pervasive before the pandemic. The crises also challenged confidence in democratic institutions and practices. But, the charged environment also served as a call to action.
At the initiative of ACG Board member and Young Leader alumna Elke Rehbock – who also heads the ACG's Eric M. Warburg Chapter in Chicago – early in the pandemic a small group of committed transatlanticists began convening regularly to explore what the transatlantic community can do to address the myriad complex challenges facing Europe and the United States. Under the heading Network 2025 – the group which includes distinguished professionals from both sides of the Atlantic spanning business, medicine, government, politics, media, and both the private and nonprofit sectors – discussed a host of issues. Topics and speakers included access to healthcare and healthcare reform with Robert Murphy, Professor of Infectious Diseases and Director of the Institute for Global Health at Northwestern University's Feinberg School of Medicine; access to economic and educational opportunities in an effort to reduce social inequity with former diplomat Daniel Baer; the challenge of disinformation and misinformation with Young Leader alumna Kathryn Harrison, founder and CEO of the DeepTrust Alliance; and the lessons for climate policy and ESG with Young Leader alumna Hui Wen Chan, Senior Vice President for Environmental and Social Risk Management at Citi.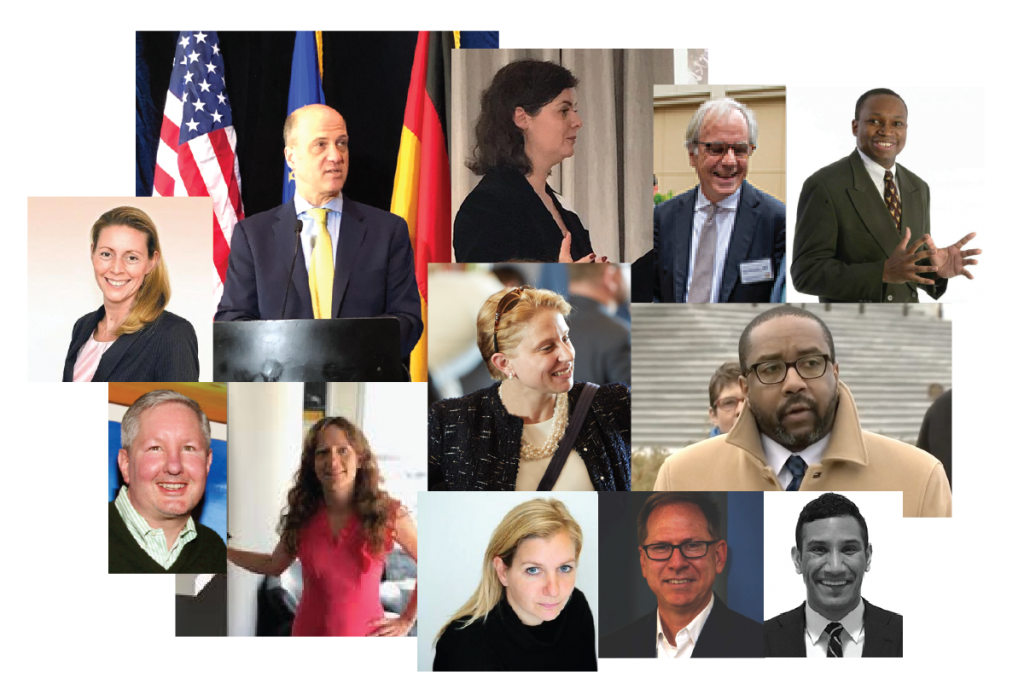 In an effort to engage a broader group, Network 2025 is in the process of carrying out a survey of thought leaders to take stock of the current moment in history. Looking to 2025, the interviews will serve to identify trends with regard to the simultaneous public health, economic, and social justice crises 2020 brought to light.  The findings will be distilled and shares on this website as well as with a wider audience on both sides of the Atlantic. The findings will also be presented at the Futures Forum in Chicago in October.
The members of Network 2025 include the following individuals, all of whom participated in a personal capacity:
Dan Conley, Owner and Founder, Beacon Communications (Chicago, IL)
Bishop Garrison, Senior Advisor to the Secretary of Defense, U.S. Department of Defense (Washington, DC)
Christine Gateau, Partner, Hogan Lovells (Paris, France)
Robert George, Editorial Board, Bloomberg Opinion (New York, NY)
Svenja Laurie, Chief Financial Officer, Hella Automotive Mexico (Mexico City, Mexico)
Dr. Stormy-Annika Mildner, Director, Aspen Institute Germany (Berlin, Germany)
Dr. Robert L. Murphy, John Philip Phair Professor of Infectious Diseases and Executive Director of the Institute for Global Health, Northwestern
University's Feinberg School of Medicine (Chicago, IL)
Jaisel Patel, Associate, Dentons (Chicago, IL)
Elke Rehbock, Partner, Dentons (Chicago, IL)
Juliane Schäuble, U.S. Correspondent, Der Tagesspiegel (Washington, DC)
Dr. Steven E. Sokol, President, American Council on Germany (New York, NY)
Michael Walsh, Managing Partner, Kilkenny Capital Management, LLC (Chicago, IL)