From November 6 to November 12, 2022, the American Council on Germany kicked off the fourth round of exchanges for its Transatlantic Cities of Tomorrow: Digitalization and the Future of Work initiative, a reciprocal exchange program for thought-leaders in small- and medium-sized cities in Germany and the U.S. to develop solutions to common challenges resulting from digitalization and to identify innovative approaches to turning these challenges into opportunities for their local workforce and economies.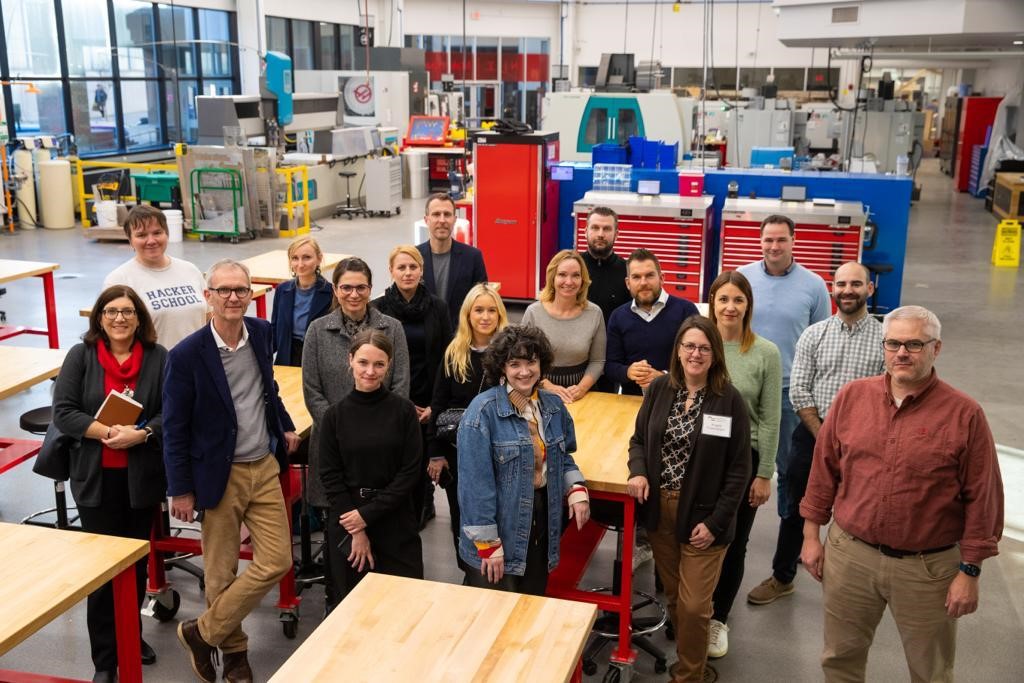 The 17-person delegation included education and workforce development administrators, entrepreneurs and innovation experts, representatives from economic development agencies, municipal associations, and city and state government from Rostock, Schwerin, and Hamburg in Germany and the cities of Philadelphia, Trenton, and Newark/Jersey City in the United States.
Beginning in Philadelphia, the delegation learned about the city's innovation and digitalization strategy, including its efforts to promote digital inclusion, in meetings with the City of Philadelphia's Office of Innovation and Technology and the Technology Learning Collaborative. To understand the innovation and entrepreneurial ecosystem in Philadelphia, the group visited Drexel University's ExCITe Center, Innovation Center ic3401, and the Science Center, which are all active in supporting and connecting technology, entrepreneurship, a STEM workforce and start-ups in various communities in the city. Additional information about workforce development was provided at Philadelphia Works and the delegation visited Coded by Kids, which offers young people 8 to 18 years old, from underrepresented groups with software development, digital design, computer science, and tech startup-focused entrepreneurship programs. A final session at Temple University's College of Science and Technology Center for Online & Digital Learning focused on the university's digital solutions to enhance online teaching quality.
In Trenton, the delegation participated in a roundtable discussion about the State of New Jersey's innovation and workforce development strategies with representatives from a variety of agencies including the New Jersey Office of Innovation, the New Jersey Future of Work Accelerator, and Future of Work Taskforce, the New Jersey Department of Labor and Workforce Development, the New Jersey Office of Higher Education, and the New Jersey Office of the Governor. At Mercer County Community College, participants learned about the role of community colleges in the United States and their workforce development programs and also visited the college's Advanced Manufacturing Lab. The College of New Jersey's Design and Creative Technology program highlighted learning experiences that combine hands-on instruction on industry-standard tools with an in-depth exploration of the cultural impact of digital technology, and the delegation visited the college's Makerspace and ULab, where students can collaborate on projects.

The delegation concluded the week in Newark and Jersey City. In a meeting with Choose NJ and the New Jersey Economic Development Authority, the group received an overview of the state's economic development activities and priorities, the key industries in New Jersey that are impacted by digitalization, such as technology, clean energy, and manufacturing clusters, as well as the education and workforce issues that impact economic development in the state. The delegation spent an afternoon at the New Jersey Institute of Technology (NJIT) that included meetings at the New Jersey Innovation Institute to discuss their Civic Transformation/Digital Government work and the changing landscape of workforce education and skills, VentureLink @NJIT to learn about its incubator and support of entrepreneurship training in Newark, and NJIT's Makerspace, a state-of-the-art facility to prepare future multidisciplinary STEM employees for the purposes of innovation, invention, and production. At HAX, a part of SOSV, a global venture capital firm that offers multi-stage investment, starting with pre-seed startup development programs designed for founders with breakthrough technologies, the group learned about the HAX Seed Program, which will be part of the $50 million HAX facility being built in downtown Newark focused on growing industrial, healthcare and climate startups. The week concluded with a visit to the Liberty Science Center where the group discussed and toured LSC's educational activities to promote STEM education. They also received an overview of SciTech Scity, which is a planned science and innovation "mini-city" currently in development that will include a public magnet STEM academy, a business incubation hub, and a Scholars Village with residential housing for innovators, scientists, entrepreneurs, STEM graduate students, and individuals and families who desire to be a part of the SciTech Scity community.

During the week, participants were impressed by the collaboration between local government, economic development, and educational institutions. A further insight was the significant efforts to engage youth, specifically underserved youth, with programs that teach digital skills, entrepreneurship, and STEM fields. The visits focused on innovation and start-ups and highlighted the U.S. culture of trial and error and willingness to take risks. The week inspired a lot of brainstorming about potential partnerships and ways to build bridges between American and German institutions working on these issues. During the first week of December, the delegation will convene again for a week-long reciprocal visit to Rostock, Schwerin, and Hamburg.