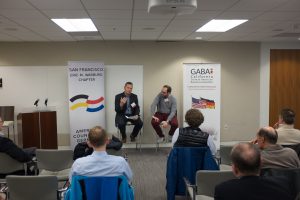 The ACG's San Francisco Chapter is one of the most active Chapters. The Chapter generally organizes lunch and evening events focused on transatlantic relations and global affairs. The Chapter has a strong constituency in the Bay.
The Chapter partners with other local organizations such as the German Consulate, the German-American Business Association, the German American Chamber of Commerce, Goethe-Institut, the World Affairs Council of Northern California, and the Institute of European Studies IES at UC Berkeley.
Recently, the San Francisco Chapter hosted speakers such as Boris Ruge, Deputy Chief of Mission of the Federal Republic of Germany; Ricklef Beutin, Director General for Crisis Prevention, Stabilization, Peacebuilding and Humanitarian Assistance in the German Foreign Office; Cornelius Adebahr, Nonresident Fellow at Carnegie Europe; Dr. Sebastian Voigt, Postdoctoral Research Fellow at the Institute for Contemporary History Munich – Berlin; Dr. Jana Puglierin, Head of the European Council on Foreign Relations in Berlin; and Juliane Schäuble, U.S. Correspondent for Der Tagesspiegel.
Jakob M. Schroeter
Managing Partner
Nixon Schroeter Group
js@nixon-schroeter.com
Jakob has more than 18 years of experience in Wealth Management, Investment Banking and Tech in the US, Switzerland, and Europe. Jakob served at Palantir Technologies in Silicon Valley and as Vice President at UBS Private Wealth Management, catering to the unique needs of UHNW individuals and Family Offices in the US and abroad. He also served at Vontobel Swiss Wealth Advisors as Co-Head of the Dallas office and Senior Wealth Management Advisor. Previously Jakob worked for BNP Paribas CIB, UBS Investment Bank, and Citigroup Global Markets, advising UHNWi and providing Structured Solutions to Institutional clients. He is a trusted Senior Wealth Management Advisor, Relationship Manager and Business Developer advising US individuals on diversifying their investment portfolios to achieve true international diversification. With a strong focus on wealth preservation, protection, and growth, he has been successful in assisting clients to navigate global financial markets and make informed decisions. Jakob's multifaceted journey and exceptional accomplishments position him as a distinguished figure in the world of Wealth Management and Investment Banking. His commitment to international diversification, wealth preservation, and informed decision-making reflects a dedication to empowering clients in their financial endeavors.
He received his BSc (Bachelor of Science) in International Economics & Business from the University of Groningen, before receiving his MSc (Master of Science) in Econometrics with a specialization in Quantitative Finance from Erasmus University Rotterdam, the Netherlands. He also received a Certificate in Management from the Southern Methodist University – Cox School of Business and holds the Trusted Estate Practitioner (TEP) designation and is a Full Member of the Society of Trust and Estate Practitioners (STEP) as well as a former board member of the STEP Texas Branch.