The Dallas Warburg Chapter was one of the first Chapters established in 1992. Each year, the Chapter hosts several events one a wide range of topics. Recent speakers include Ricklef Beutin, Deputy Chief of Mission of the German Embassy in Washington, DC; Dr. Christian Martin, Professor of European and Mediterranean Studies and Max Weber Visiting chair in German and European Studies at New York University; Stefan Schlüter, former German Consul General in San Francisco;  Tobias David, Chief of Staff to the Lord Mayor of Leipzig; former Bundestag Members Hans-Ulrich Klose (SPD), Özcan Mutlu (The Greens/Alliance '90), and Ruprecht Polenz (CDU); the head of Germany's Protestant church, Bishop Margot Käβmann; former Executive Board Member of the European Bank Jürgen Stark; Karl-Theodor zu Guttenberg, former Minister of Defense and Minister of Economics and Technology; Klaus-Dieter Frankenberger, Editor of the Frankfurter Allgemeine Zeitung; Andreas Dombret, former member of the Executive Board of the Deutsche Bundesbank; and many others.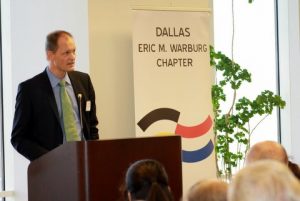 The Dallas Warburg Chapter cooperates with various local and regional institutions such as the German Consulate in Houston, the German American Chamber of Commerce, The Rotary Club of Dallas, the Dallas Committee on Foreign Relations, the Dallas Goethe Center, as well as Southern Methodist University (SMU). It has also worked with SMU's John Goodwin Tower Center, International Law Student Bar Association, and the George W. Bush Institute at the Presidential Library.
Through a range of events, the Dallas Warburg Chapter addresses a variety of critical economic, political, and historic topics as well as religion and immigration. On occasion, the Dallas Chapter also hosts commemorative social events and dinners. Chapter events are often held over lunch, with prepared remarks from an external speaker followed by discussion.