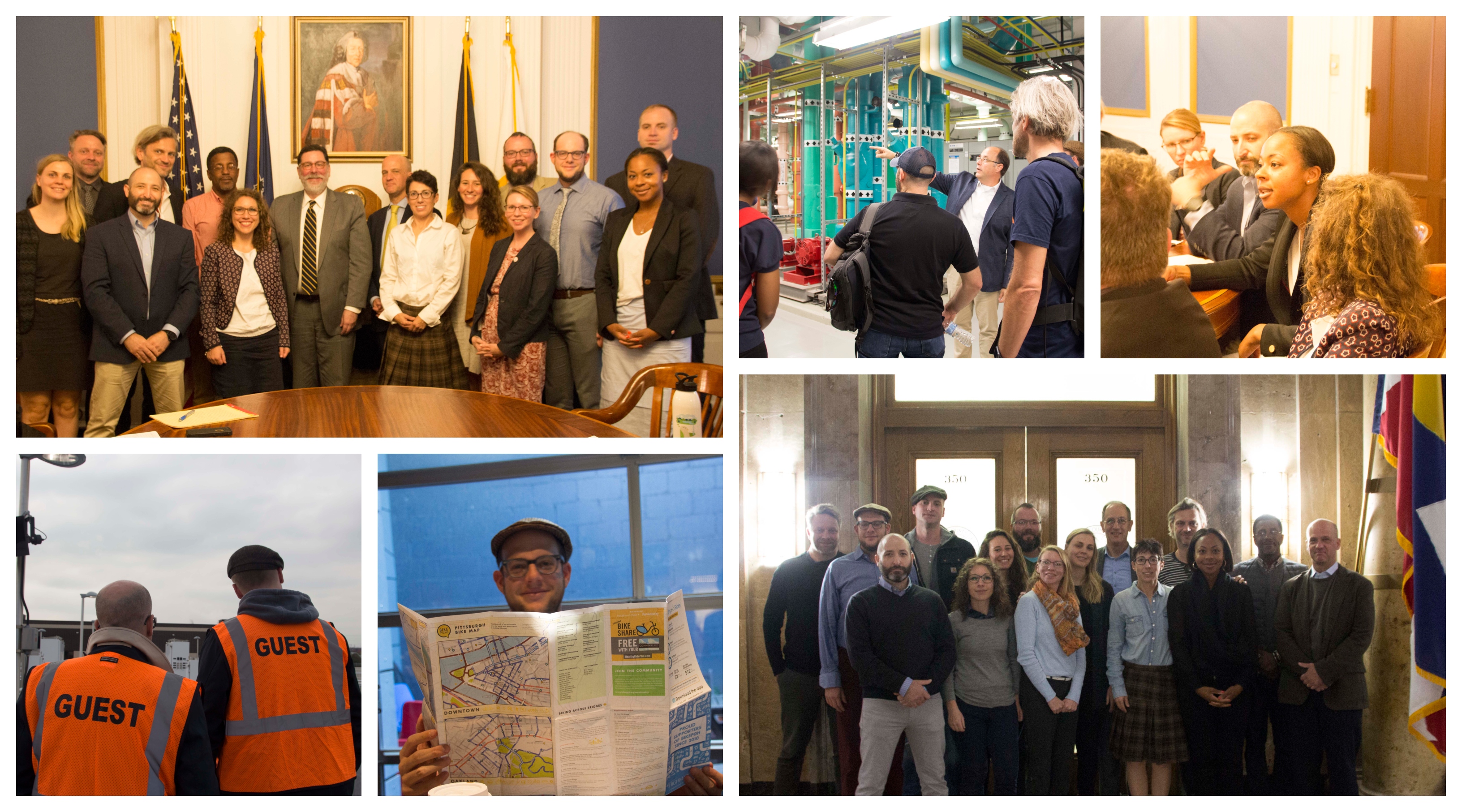 The group gathered for the second phase of the program – in Pittsburgh and Denver – from October 7 to 13. There they met with officials and experts working to improve the lives of residents as they continued to build upon their new transatlantic network.
On the evening of October 7, the group, which consists of Americans and Germans working on urban issues and sustainability, gathered around a dinner table in the South Side of Pittsburgh after nearly five months since their last meal together in Berlin. With the atmosphere of a family reunion, the group spoke about their latest projects, new developments in their cities, and the lessons they had learned during the first part of their study tour. With their bonds firmly cemented, the participants embarked on an intense week of meetings.
Over the course of two and half days, the group met with officials from the Allegheny Conference on Community Development, Duquesne Light Company, the Pittsburgh Department of Mobility and Infrastructure, Bike Pittsburgh, Remaking Cities Institute of Carnegie Mellon University, the Energy and Innovation Center, Riverlife Pittsburgh, and the Pittsburgh Downtown Partnership. As a highlight, the participants were invited to City Hall to have a private meeting with Mayor Bill Peduto. The Mayor discussed the challenges he has faced in a growing and diverse city. The group also had the opportunity to discuss county and state politics with Erin C. Molchany, Director of the Pennsylvania Governor's Southwest Regional Office.
On October 10, the cohort flew together to Denver for the second leg of the program. They next met with experts from the Department of Public Health and Environment for the City and County of Denver, the City Manager of Commerce City, the Department of Planning, BikeDenver, and Xcel Energy. The group had a rare opportunity to tour the Metro Wastewater Reclamation District, which provides water for the greater Denver region – and which has been experiencing a 19-year drought.
In both U.S. cities, the participants met with the Warburg Chapter Directors – Rachel Mauer in Pittsburgh and William Bass and Bernhard Jürgen Bleise in Denver – who gave them insights into their cities.
While comparing American cities with German cities is not always apples to apples, each participant was able to walk away with a deeper understanding of how medium-sized municipalities are tackling key issues such as sustainability, economic inclusion, workforce preparedness, and mobility – and also with reinforced ties with their transatlantic counterparts.
This program is made possible with support from: