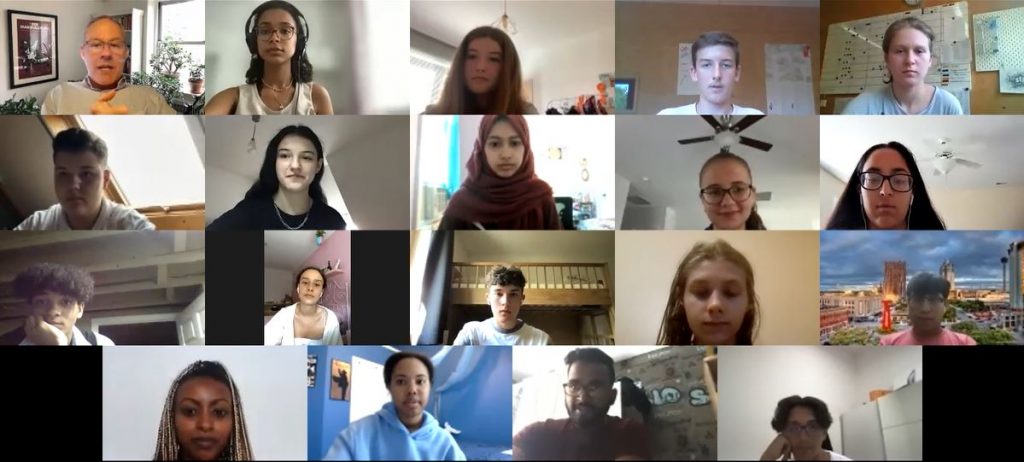 Under the auspices of Wunderbar Together USA 2021, a comprehensive and collaborative initiative funded by the German Federal Foreign Office and implemented by the Goethe-Institut, the American Council on Germany hosted the German-American Sister Cities Youth Forum, a virtual exchange designed to engage young civic leaders ages 14 to 21 in Germany and the U.S. in a transatlantic dialogue about issues confronting their local communities.
Through a series of interactive meetings, representatives from local youth councils and youth leadership programs in five pairs of U.S.-German sister cities met to discuss issues including climate change and sustainability, diversity, equity, and inclusion, and the importance of civic engagement and youth participation in their communities.
This exchange – which is a direct result of a series of 2020 Transatlantic Town Halls with mayors as part of the Wunderbar Together initiative – provides an opportunity for the next generation of politically engaged youth to explore critical issues in an international context, to learn from their counterparts abroad, and to shape how they address these issues in the future. The virtual exchanges will take place from August to December 2021.
The sister cities and organizations engaged in the project include:
The key objectives of the German-American Sister Cities Youth Forum were:
to strengthen the relationship and ties between German and American sister cities, specifically by focusing on the next generation of leaders in their communities.
to engage youth leaders in local communities in an open and transparent manner and to build greater mutual understanding and collaboration with their counterparts in Germany and the United States.
to provide youth with an opportunity to discuss key issues impacting their communities – climate change and sustainability, racial inequality and diversity, and civic engagement – so that they are understood in a global context and also so that youth can learn and share ideas on how to address them.
to have youth in these communities identify concrete ways in which they could collaborate with their foreign counterparts.
to create a foundation on which the youth organizations in the sister cities can build a sustainable, long-term relationship for further exchange and dialogue on these issues (and others) in the future.
An overarching goal of the American Council on Germany is to engage the next generation of transatlantic leaders and build awareness of the value of the German-American relationship. Through this exchange, we aim to fulfill this objective and to help the youth and organizations maintain their relationships in the future so that additional meetings and exchanges can take place.
For further information about the German-American Sister Cities Youth Forum, please contact Rob Fenstermacher at the ACG.