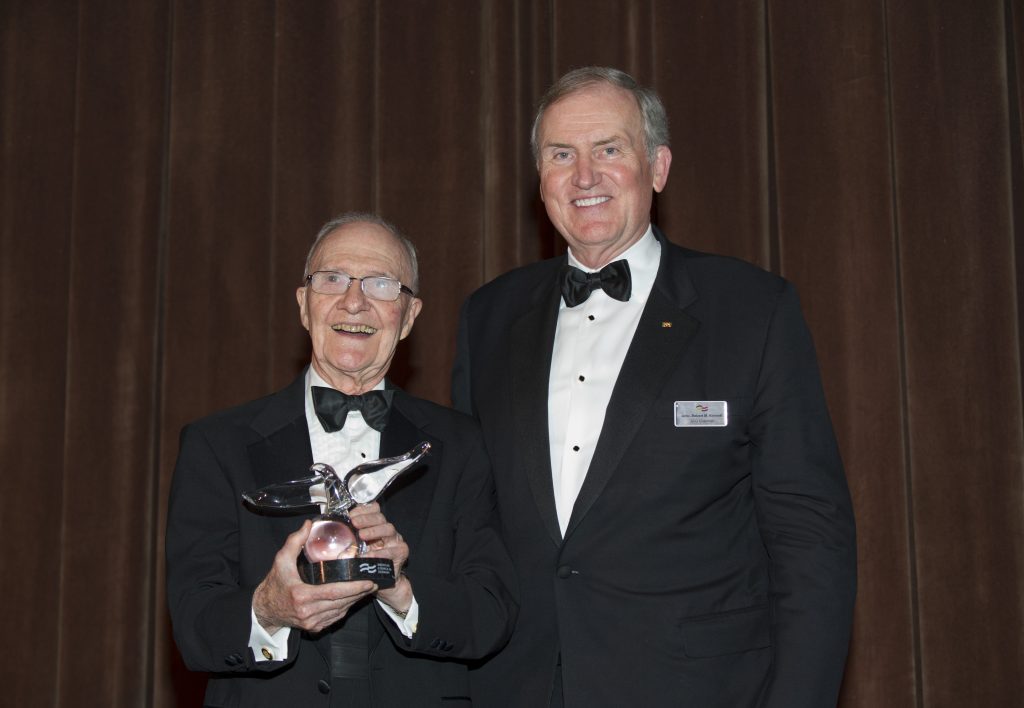 The American Council on Germany is deeply saddened by the passing of Director Emeritus Brent Scowcroft, a force in U.S. foreign policy for four decades who served as the National Security Advisor to both Presidents Gerald Ford and George H.W. Bush. He was the only National Security Advisor to serve two different administrations, and he was instrumental in the United States' role in the unification of Germany. He was 95.
Lieutenant General Scowcroft was an ACG Board member for well over a decade and was then named Director Emeritus. One of the country's leading experts on international policy, he was a guiding hand in President Bush's policy regarding German unification. He helped President Bush craft a speech in 1989 that gave a pivotal signal in the transatlantic relationship: In May of that year in Mainz, President Bush called for Germany and the United States to join as "partners in leadership." Lieutenant General Scowcroft also helped shape President Bush's comments shortly before the Berlin Wall fell, underlining that the United States had confidence in Germany and would strongly support German unification within NATO.
At the 2015 McCloy Awards Dinner, when he was honored by the ACG with a Lifetime Achievement Award, Lieutenant General Scowcroft talked about a dinner years prior – one with Chancellor Helmut Kohl and President Bush, who was then relatively new to the Oval Office, the night before a NATO meeting started. At that dinner, Chancellor Kohl spelled out his arguments for unification. As Lieutenant General Scowcroft told it: "So about this time, Chancellor Kohl was finishing his remarks. And I was waiting for the President to say exactly what I knew what he was going to say. He looked at Chancellor Kohl and said, 'Go for it.' Just like that. And that not only was brilliant for that, but what it represented was this duo at a crucial time in not only German history but European history and Atlantic community history. This basic sense of trust in each other and in the judgment. And this meeting is not very well known, but it was at this meeting that the unification of Germany started according to a plan by the Prime Minister." Lieutenant General Scowcroft was also a key player in the next steps en route to unification.
In presenting the award to Lieutenant General Scowcroft, Ambassador Robert M. Kimmitt, then Chairman of the ACG, said: "It would not surprise me – it might even please Brent – if some of you, especially in the younger generation, are learning just tonight of Brent's key role in German unification. But that is characteristic of Brent Scowcroft. Keep your country and your President out front, support them with your decades of experience and wisdom, and measure your selfless service by results and not stories about yourself."
Lieutenant General Scowcroft served as President of The Scowcroft Group. From 1982 to 1989, he was Vice Chairman of Kissinger Associates, Inc., where he advised and assisted a wide range of U.S. and foreign corporate leaders on global joint venture opportunities, strategic planning, and risk assessment.
Prior to this, his 29-year military career began with graduation from the U.S. Military Academy at West Point and concluded at the rank of Lieutenant General following service as the Deputy National Security Advisor. He first dreamed of attending West Point after reading about cadet life at age 12. Trained as a fighter pilot, he switched tracks from tactics and operations to strategy and planning after sustaining severe injuries in a crash. His Air Force service included posts as Professor of Russian History at West Point; Assistant Air Attaché in Belgrade, Yugoslavia; Head of the Political Science Department at the Air Force Academy; Air Force Long Range Plans; Office of the Secretary of Defense International Security Assistance; Special Assistant to the Director of the Joint Chiefs of Staff; and Military Assistant to President Nixon.
Out of uniform, he continued in a public-policy capacity by serving on the President's General Advisory Committee on Arms Control, the President's Commission on Strategic Forces, the President's Blue Ribbon Commission on Defense Management, and the President's Special Review Board, also known as the Tower Commission. He served as a Co-Chair for both the Blue Ribbon Commission on America's Nuclear Future and the National Academies of Science's Committee on Science, Security, and Prosperity. He formerly served as the Chairman of the Foreign Intelligence Advisory Board and was a member of the United Nations Secretary-General's High-Level Panel on Threats, Challenges, and Change. He earned his Master's and Doctorate in International Relations from Columbia University.
In 1991, Lieutenant General Scowcroft was presented with the Medal of Freedom, the nation's highest civilian honor, by President Bush, and in 1993 was presented with the insignia of an Honorary Knight of the British Empire by Her Majesty Queen Elizabeth at Buckingham Palace. In 2009, he was presented the Grand Cross of the Order of Merit of the Federal Republic of Germany.
Lieutenant General Scowcroft leaves an indelible mark on the transatlantic relationship, and he will be sorely missed.