McCloy Awards Dinner Honors Joe Kaeser and Siemens AG and 38th U.S. Secretary of Commerce Penny Pritzker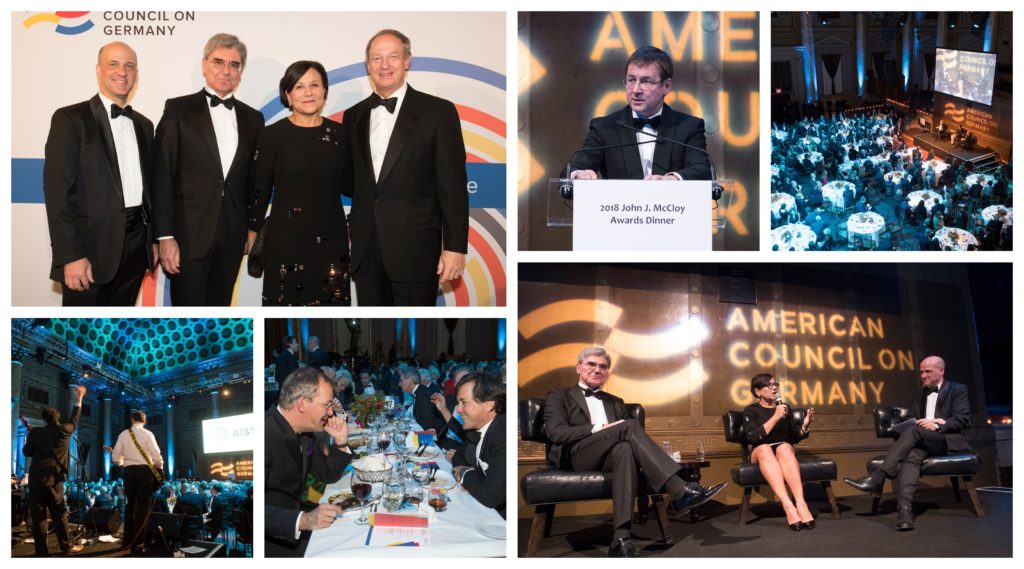 The American Council on Germany's 26th annual McCloy Awards Dinner was a tribute to two distinguished leaders who have fostered close economic ties across the Atlantic and also a spirited look at German-American cooperation in the past, present, and future.
On Monday, December 3, the ACG honored Joe Kaeser, President and Chief Executive Officer of Siemens AG, with the 2018 McCloy Award and Penny Pritzker, 38th U.S. Secretary of Commerce and Founder and Chairman of PSP Partners, with the 2018 Transatlantic Leadership Award at Capitale in New York City. ACG Chairman Ambassador John B. Emerson, Vice Chairman of Capital Group International and former U.S. Ambassador to Germany, was the emcee. David Gill (1992 Young Leader), Consul General of Germany in New York, read a letter from Chancellor Angela Merkel and also recounted the strong impact his experience as an ACG Young Leader had on his career trajectory. ACG President Dr. Steven E. Sokol gave an overview of the ACG's recent initiatives and moderated a panel discussion with the honorees. About 325 people from across the United States and Germany were in attendance.
In his acceptance speech, Mr. Kaeser highlighted the importance of dialogue in these times of division: "Today it takes dialogue to unite a divided society. Today it takes courage to speak up against racism, nationalism, and speak up for human rights. Today it also takes, more than ever, people like John McCloy.  And last but not least, it takes leaders who show our people the way. People like you, here in this room."
Ms. Pritzker underlined the ongoing importance of German-American ties, saying that "our partnership was and is vital to getting things done globally." She went on to say that she "genuinely believe(s) that the relationship between the United States and Germany is special – essential, in fact – in today's increasingly complicated world."
Both honorees made a heartfelt mention of the pivotal role of the late George H.W. Bush – whom Mr. Kaeser called "one of America's greatest sons" – in building transatlantic relations and helping to foster Germany's unification.
In the panel discussion that followed, Mr. Kaeser and Ms. Pritzker addressed topics including the roles of multinational corporations in a globalized world, how to address the skills gap and prepare for AI and other technological change, and how best to preserve and strengthen transatlantic relations in the coming years.
Musical performances were provided by Suspicious Package, a Washington-based band that boasts one ACG Young Leader alumna, three Pulitzer Prizes, and three victories at Journopalooza for the title of DC's best media band.
The ACG is very grateful to those who supported the 26th annual McCloy Awards Dinner. The proceeds of the event provide vital support for the ACG's various activities, including its prestigious Young Leader programs, policy discussions in New York and across the United States, fellowships, conferences, and other initiatives to promote transatlantic cooperation and the exchange of best practices and innovations.